Family campsite with swimming pool and activities near the Puy du Fou
Heated swimming pool close to Puy du Fou
The beautiful heated swimming pool on the estate, blends perfectly into its surroundings, and is an ideal place to relax on the campsite, during the season. 
It is located in the heart of the grounds, a continuation of the  restaurant's flower-filled terrace and provides an incredible view of the countryside and forest. 

Sport and aqua-gym during the season
Our swimming pool is a place of well-being or even of fitness for the more sporty amongst you! In the summer, you can enjoy lively aqua-gym sessions that take place in the morning for a pleasant, musical wake-up call. We have chosen not to close the pool until 8pm, so that you can enjoy it on returning for a family excursion, to the Puy du Fou for example.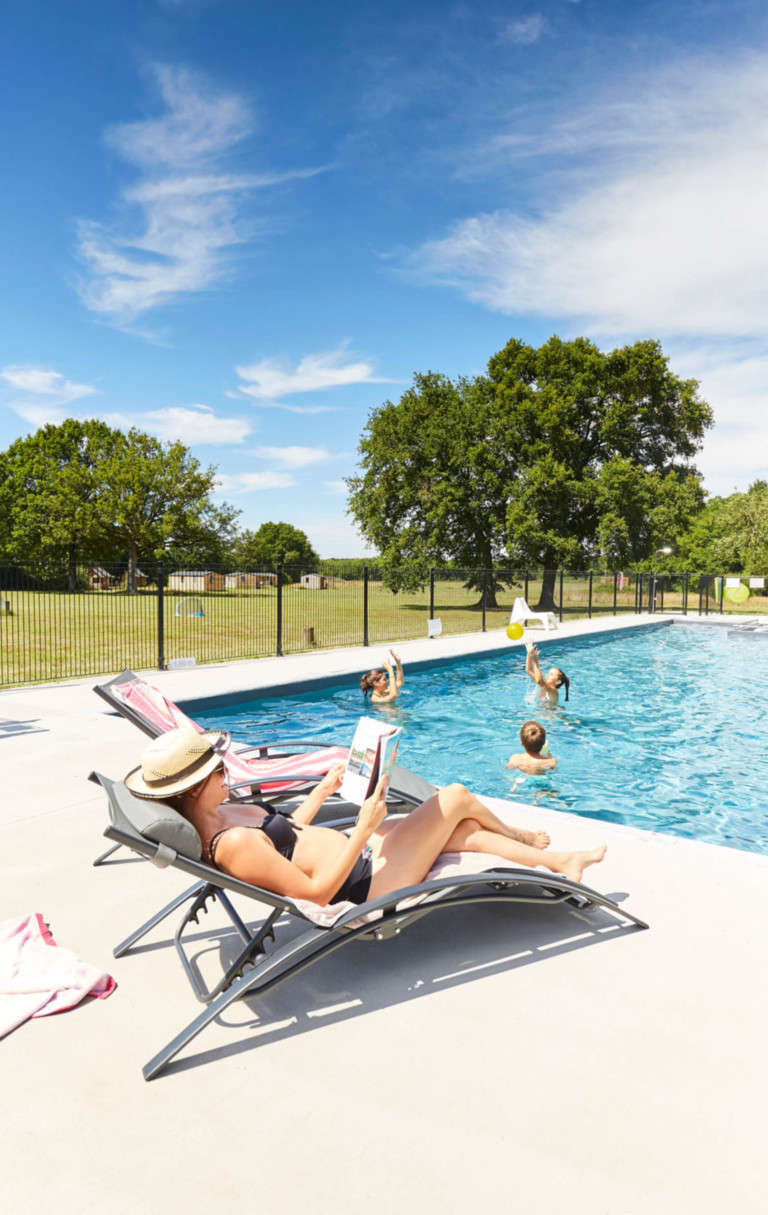 The swimming pool and its paddling pool are heated !
Take advantage of a 120 m² swimming pool, heated to 28°C , with an unobstructed view over the vast meadow. Sun loungers are available for your little afternoon snooze by the water's edge. The little ones can also splash around in the paddling pool ! It is open from mid-May to mid-September from 10.30 am to 8 pm.
The water jets
The water jets are accessible to young and old alike. It is an ideal way to refresh yourself ,while having fun at the same time. They are located in an open area, just in front of the open sided pole barn and are turned on several times a day, as per a set schedule.
A clever approach to make bathing a pleasure !
We opened the pool in May 2016. It is, therefore, equipped with the latest technology in terms of water filtering and heating.  In fact, we have a very precise filtration/disinfection system that allows us to limit the amount of chlorine while guaranteeing optimal water quality. 
Furthermore, the temperature of 28°C can be easily achieved,  with a modern heat pump that has a low energy consumption.  We chose materials with colours that allow our pool to blend in perfectly with its environment.
The security barrier that surrounds it, complies with the latest requirements, i.e. there are no horizontal bars to climb over. The gates are also equipped with a system that prevents children from entering. In this way, our pool is the ideal place to cool off during the hot weather. 
Complete relaxation in the middle of nature …
You can sit a few metres from the pool, on the meadow, near the large oak trees.  This area enjoys a new and attractive layout. Near the pool, we have a giant hammock of over 13 m², great for a little nap in the sun after a swim. 
Alternatively, you can relax by the pool, on the sun loungers set up on the large beaches, some of which have vegetation.  Whether you are lying in the sun or leaning against the edge of the pool, you can admire the beautiful view over the meadow and the large oak trees. This natural setting is ideal for a pool.  
The pool is large and of varying depths so you can swim in it, which is great for a refreshing start to the day, for example. It is also ideal for children to play in for hours on end, and the little ones can play in the shallow paddling pool. 
Just forget everything, switch off and let yourself be tempted by a relaxing moment lying on the grass, reading a book with a view of the fields, between a visit to the forest of Grasla and an afternoon hike ....
The children will be able to enjoy the open spaces and outdoor games, the woods or the sheep.
Running, cycling, playing football, reading : there will be no shortage of things to do !
The lake
The Domaine de l'Oiselière has doubled its surface area with 7 additional hectares dedicated to walking and relaxation, accessible on foot 🙂 All around our new 2 hectare lake, you will find reeds, ferns, herons or even frogs. There is an abundance of flora and fauna to discover with your family. The lake is also a new place to go for a stroll, in a calm natural environment surrounded by butterflies … a wonderful way to completely switch off !
The l'Oiselière's vegetable garden
As soon as you arrive, you will discover the estate's vegetable garden. This is where we grow aromatic plants, mint, thyme, etc., as well as fruit and vegetables. For those of you with green fingers, you can plant, water harvest , etc. According to the seasons, there is only one last thing left to do : enjoy ! The garden is freely accessible and you can go there at any time with your family, to cut some basil for decorating your tomato-mozzarella salad. The children will be happy to pick the cherry tomatoes for the pre-dinner drinks !
A game of petanque in the shade of the great oaks
The estate has a special area for petanque players… and where spectators can sit nearby on white chairs or on wooden benches to watch ! Players can borrow the "boules" free of charge : real metal boules for the adults or coloured plastic boules for the little ones.
Geocaching
Geocaching is a leisure activity, halfway between a treasure hunt and orienteering. It involves, finding boxes called "caches" hidden in the countryside. 
Your mission is simple : find the caches with the help of MyMaps. 
A treasure ? Caches usually contain simple treasures. The real reward, is spending time with friends and family !
You can enjoy this adventure on foot or on a bike ! 
Our team provides free mountain bikes for adults and children. 
To take advantage of this service, nothing could be simpler : tell the reception what you need, choose your bike, choose your helmet and off you go !
For your trips around the estate and in the forest, opt for a bicycle. For the children, it is also a synonym of independence, they will appreciate being able to use them on the campsite in an unlimited way. 
Furthermore, the Domaine de l'Oiselière has been awarded the Accueil Vélo label for the past several years. This means that you benefit from services adapted to cyclists, whether you are staying with us or just passing through. At just 2km from the estate, you will find the Vendée Vélo circuit, with more than 1800km of cycle trails.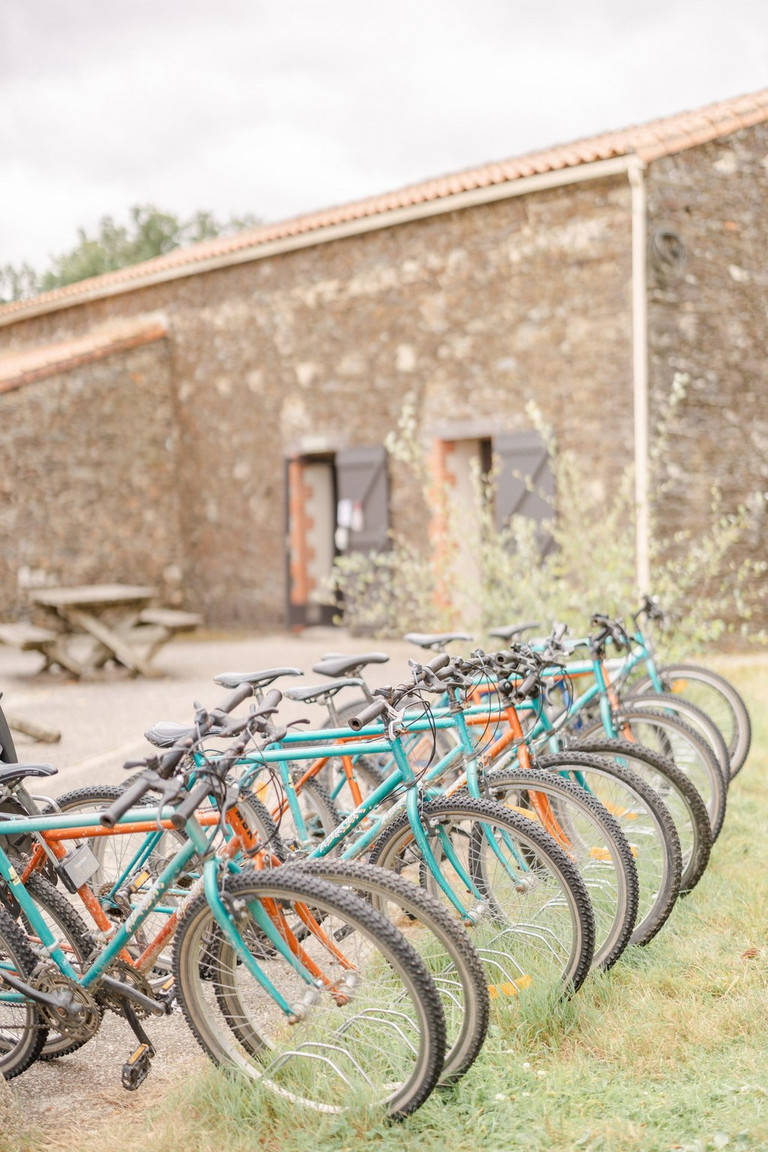 Table tennis in the hall, volleyball on the sports field
Under the covered hall, sheltered from the wind, you can play table tennis (bats and balls are available on loan for free). The older children can compete against each other in tournaments ! 
On wet days, the hall area is the ideal place for reading. This is also, where we project entertaining films in an "open-air" cinema mode. On the sports field there is a volleyball court (free loan of volley balls) and a badminton net for those who fancy a game (you can also borrow rackets and shuttlecocks for free). 
The library for dreaming, playing, imagining
We have a lovely library and games room for you to use. It is a quiet and peaceful place, with a small window that overlooks the colourful terrace. Here, you can choose a few books or magazinees to read during your stay. 
The stylish decor and relaxing colours are very much appreciated by both the parents and children. It is also a place where you can simply, sit down and read. We have a selection of more than 500 different references that will suit both young and old alike. But above all, it is a place dedicated to the pleasure of reading. Crime novels, comics, gardening magazines, biographies…there is plenty of choice.
You will be able to enjoy playing board games such as Uno, Pictionnary or Trivial Pursuit with friends or family !
Well-being, in general is very important on holiday !
So, here at  l'Oiselière, we have sought out (and found !) partners that provide well-being activities : Amelia and Angélique. They both have been coming to the campsite for several years now. A convenient activity, as it is on site.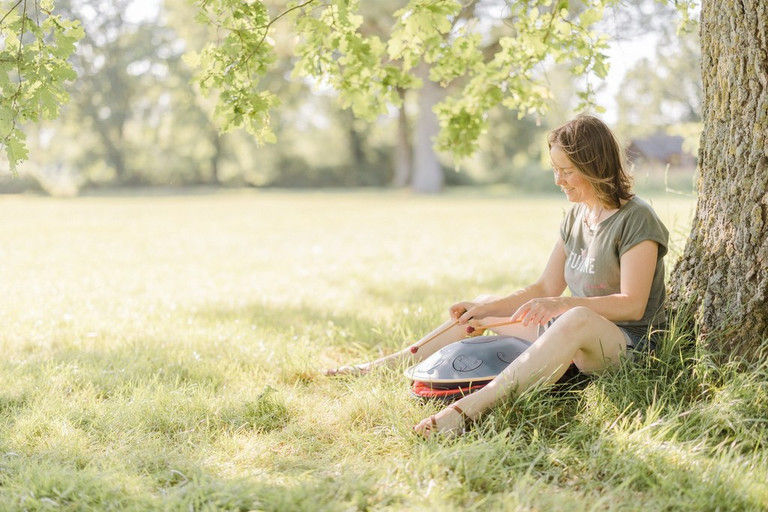 Amelia brings your senses to life
Amelia organises workshops to reconnect with your 5 senses : she will make you feel and listen to things differently ! You can even take a or 2 hour walk with her for an initiation to the art of meditation.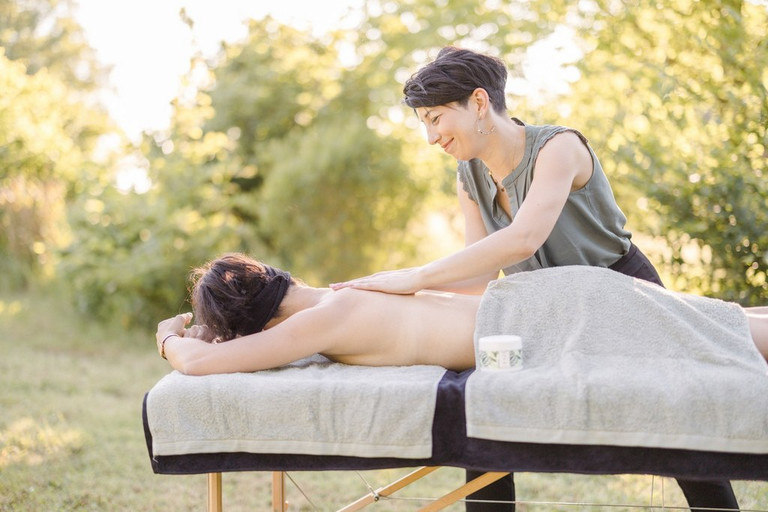 Massages with Angélique
With Angélique, you will forget about all your worries for a while during a relaxing massage. A little gift that you can also offer to your teenagers.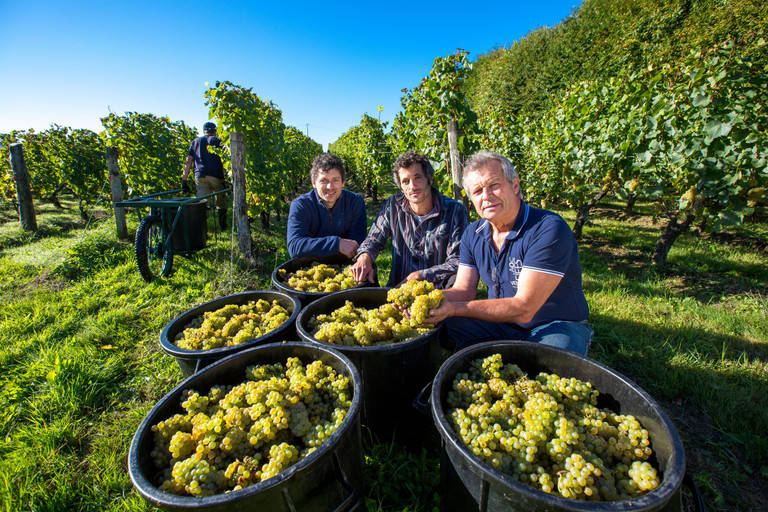 Wine tasting
Some might say that this is not really a well-being activity ! In any case, it will always be in moderation. Pictured above, is the Orion family , father and son, who run the organic vineyards of the Domaine de la Barbinière, just 25 minutes away. You can sample their wine here on our estate.
The small grove in the big forest
Some things are irreplaceable here on the estate… Our magnificent trees, which are more than a hundred years old. 
In the small grove, around which our 33m², 45m² and premium cottages are located, you will find cool shade from the trees. What's more, if you feel like getting lost in the forest (in fact it will be difficult to get lost!).
At just 400m away, that is to say, continuing along the lake , the forest of Grasla begins. We  maintain a 5-hectare area of this forest.
You can walk or cycle through the forest of Grasla and visit the small Refuge de Grasla museum with your family.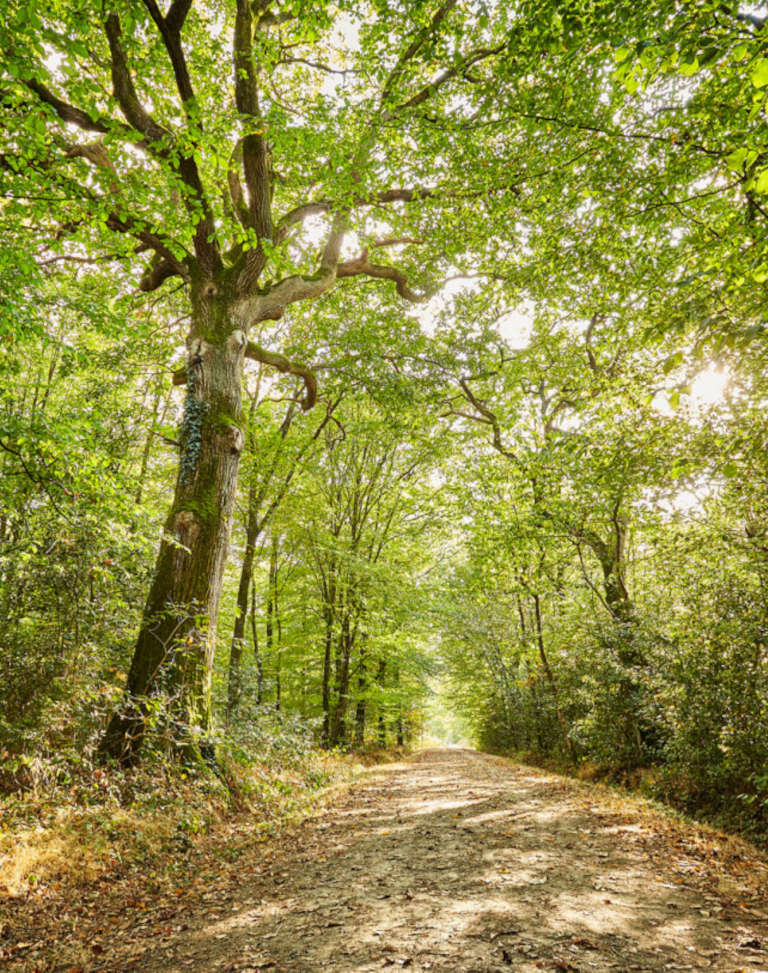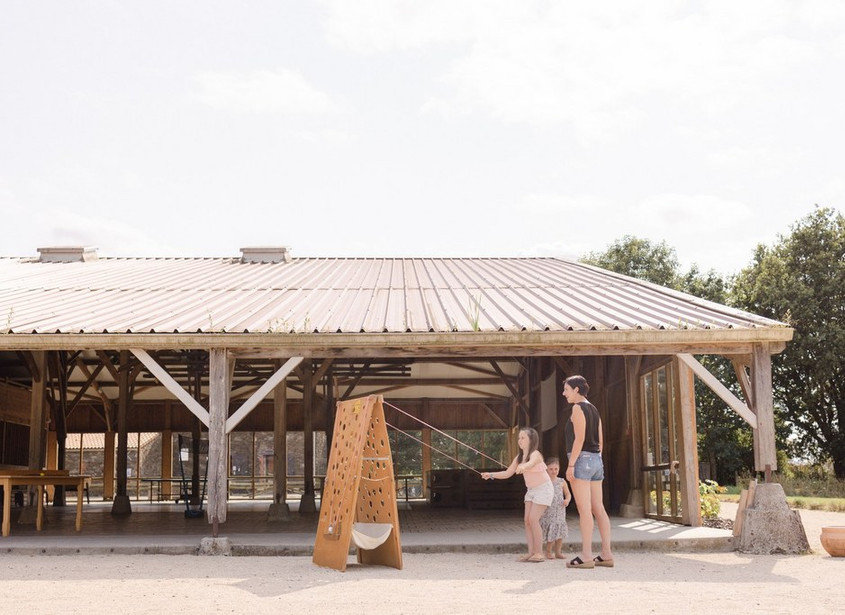 A table football, snooker table and large wooden games available in season
During the season, we have a table football and snooker table brought to the estate. This is the kind of equipment found in bars , so it is of very good quality, allowing you to play with precision ! Novices will be able to learn and the pros, to impress ! They are freely available for just a few euros. The large wooden games are set up at certain times during the week and can be used free of charge. 
A
nd finally, don't forget that Wifi is free of charge and available on the entire estate. For those of you who like to stay "in the know"... especially teenagers!
If you are coming with your family, take a look at our Children's activities page.