Healthy eating… on our campsite with its own restaurant
Using the best local produce to cook for yourself or at the Petite Table de l'Oiselière
For the French (but not only!), eating properly is an important part of a successful holiday. Satisfying your taste buds is important to us, so we have developed a range of services that allow you to cook for yourself or, if you prefer to spend time doing something else, to eat in our  campsite  restaurant : la Petite Table de l'Oiselière, open in July and August. But throughout the year, our team can also offer you different catering solutions, according to the season, with emphasis on organic and local products. We take your comments into account and work, each year, to provide a range of catering options that are up to date and adapted to your needs. So, check out this page and find out everything you need to know ! 

La Petite Table de l'Oiselière
In the summer, we open our restaurant « La Petite Table de l'Oiselière ». It is located in a large and very unusual setting, that of an old barn. You will discover the wooden beams and restored feeding troughs, modernised with white paint. The venue is pleasant and bright. A superb flower filled terrace offers cosy seating under the chestnut tree pergolas. We offer tables with a nice view of the heated swimming pool and the vast green meadow. In July /August, remember to book a table for the evening you arrive (menus from 11€/children and 16€/adult).
In this pleasant setting, you can enjoy an evening meal (booking is necessary) in a real restaurant with table service and dishes prepared using fresh, local produce. Much better than having a snack !   The fresh vegetables and fruit (courgettes, lettuce and tomatoes) come from our organic market gardeners, Sandra et Mathieu Gilbert. This allows us to prepare our sunny ratatouille, our courgette and mint gratin and our fresh salads. The cheese dairy "La Ferme les Alpines" supplies us with delicious organic cheeses to garnish our food. The Fournil Gourmand de Chauché delivers fresh bread and pastry desserts everyday, that gives a sugary note at the end of your meal !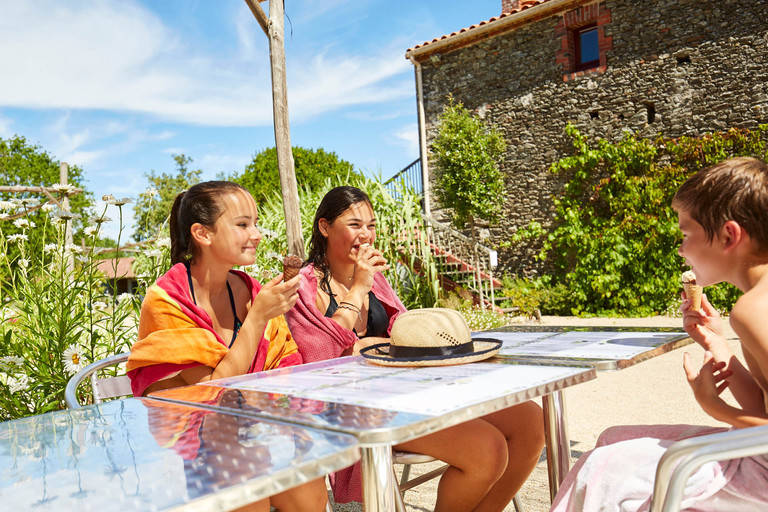 Ice creams and drinks
All year round, we offer an ice cream and drinks service. It must be said that local beers are always a popular choice ! There is something for everyone : the white beers (Les Coureurs de Lune, la Mélusine blonde or la Musse)…To be drunk in moderation or offered as a gift for your relatives or close friends. And finally, the gourmets will be able to enjoy the famous Ben & Jerry's ice creams. Mmmm, yummy !
Breakfast delivered
Breakfast is available all year round, delivered to your accommodation. It consists of fresh baguettes and a choice of pastries (pain au chocolat, croissant, pain aux raisins (raisins in puff pastry swirls). You can choose your hot drink : tea, coffee or hot chocolate, your cold drinks : local apple juice or organic orange juice as well as salted or unsalted butter, jam, etc.) 9 € / person / day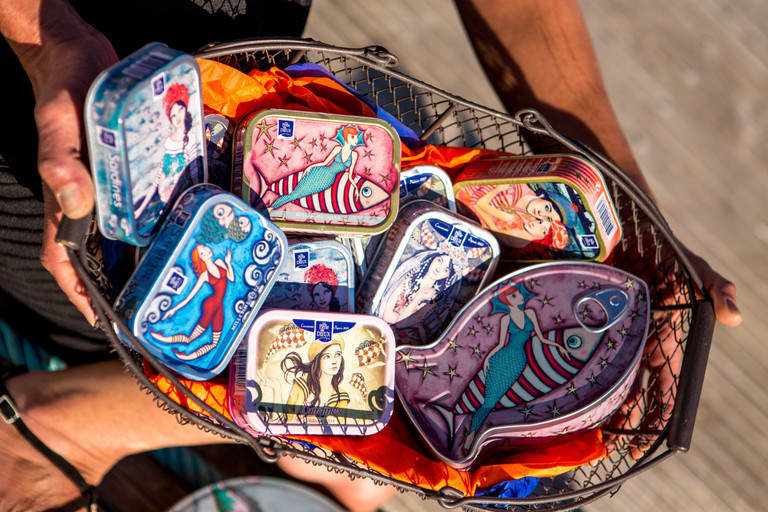 Meals in jars
All year round you, can order your meal in a jar. We will then put them in your fridge (in your accommodation) so that all you have to do is heat them up (if necessary).This service is available all year round except in July and August (restaurant service). It is, for example, a very practical option for the evening when you arrive. From 20€ for main course/ dessert.
Barbecue
On the estate, there is an area with barbecues at your disposal free of charge. We sell charcoal and firelighters if required. Fancy some herb sausages from the local butchers for your barbecue this evening?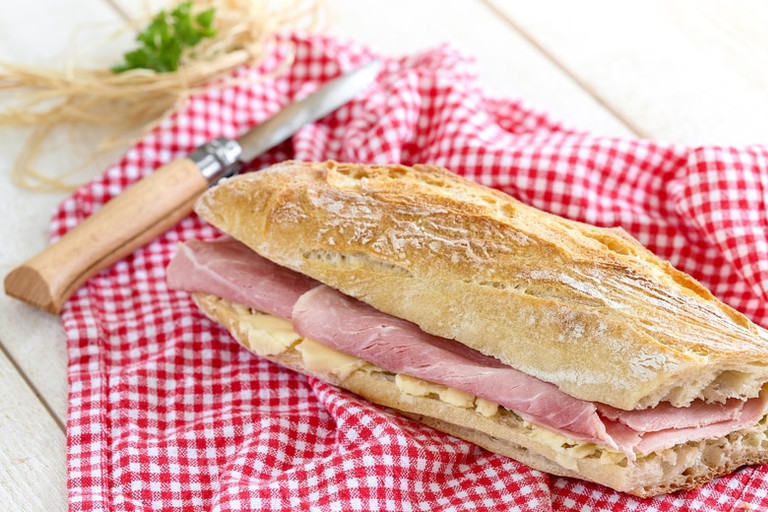 Picnic
We can prepare a picnic for your day out ! It consists of a sandwich (fresh baguette, organic ham, etc. ), a small packet of crisps and a stewed apple dessert. All you need to have is a lunch bag and a bottle flask. There are no more plastic water bottles here and the tap water is very drinkable !
Fully stocked fridge
We can offer you with an original option : a fully stocked fridge upon arrival from 20€. This is a practical and tailor-made service. A few days before you are due to arrive , you choose the items you need to cook your own meals, We then, deliver your order to your cottage, before you arrive... A simple and easy idea for eating the evening you get here.
Organic/local grocery store on the estate
The organic grocery shop, open all year round.
Your stay here will give you an opportunity to discover the products of our local producers : organic jams, local beers, local groceries, etc. for sale on the estate. Also available / all the essentials.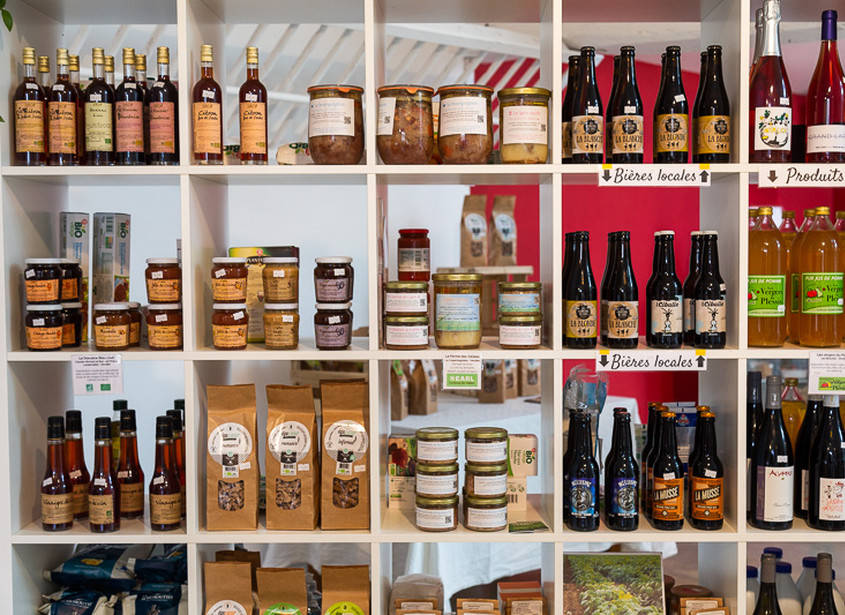 Organic grocery shop
It is quite difficult to find products that meet both these criteria. So we hope, that you will see the effort we have made to provide a variety of products : fruit juices and cordials, beers, wine, pasta, spreads jams, crisps, mojette beans, … We also had to add organic products that you can find in your usual shops.
Every day of the year, you can order your bread the day before for the following day : baguettes, croissants, pain au chocolat, Vendéenne brioche etc. 
In the summer, try the fresh organic fruit and vegetables grown nearby, for a nice tomato salad with basil from the vegetable garden.
We also sell and propose fresh products such as mozzarella cheese, ideal to finish off your starter.