Your mobile home near the Puy du Fou
M
ake yourself at home in this cottage of 33 m². This modern cottage has a unique exterior with beautiful red cedar wood cladding and a semi-covered terrace with stunning views of the surrounding countryside and forest. It is fully equipped with all the comforts of a small house and the beds are made before you arrive. The master bedroom has a practical wardrobe area. So, if you want to stay close to the Puy du Fou, why not opt for this charming "pied-à-terre" only 35 minutes from the Park.

Truly modern accommodation !
With a surface area of 33 m², these cottages are really spacious. We call them cottages here on the estate, but they are actually mobile homes that are manufactured in the Vendée, and with the help of our carpenter we have added wooden cladding. The decor is modern and will make you feel at home right away. Another important feature is that the beds are made before you arrive, which is also a modern touch ! And what's more, the bed covers and pillow cases are lovely bright colours, not just white ! 
Our Hospitality guidelines for a comfortable stay at the Puy du Fou
For a truly comfortable stay , just like in a hotel or even at home, we have thought about the type of services you might need. For example, if you plan a visit to the Puy du Fou you can order (the night before) to have your breakfast delivered to your cottage… perfect for a great start to the day.
Alternatively, if you arrive back late from the Cinéscénie show at the Puy du Fou, this won't be a problem for us, we can organise your late arrival and provide all the necessary information you need. This is just a sample of the services we provide to make your stay with us as enjoyable as possible, for more details just check out our page.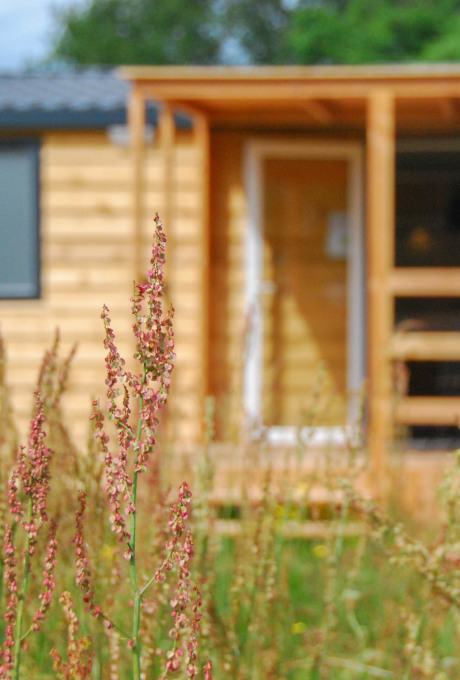 The choice of wood
Made to measure by local craftsmen, the douglas fir wood decking and the red cedar cladding have blended perfectly into the landscape ! The main advantages for using these two types of wood is that they are durable and untreated : class 3 for douglas fir and class 4 for the red cedar. And finally, thanks to this covered shady terrace, you will be able to enjoy the beautiful view of the surrounding countryside.

Details for our 33 m² cottages
Bedrooms with wardrobes and storage space
When it comes to the bedrooms, you'll find well-designed rooms with practical storage spaces :
a bedroom with 1 double bed (160 cm)
a second bedroom with 3 single beds (80cm) that is 2 twin beds and 1 bunk bed 
In addition, there are comfortable duvets and pillows, a little bonus that makes all the difference (not only in your luggage but also when you arrive) : the beds are made up ! You don't need to bring your own sheets.
An finally, one last important piece of information, in both bedrooms it is possible to fit a cot, either your own or one of ours (on option).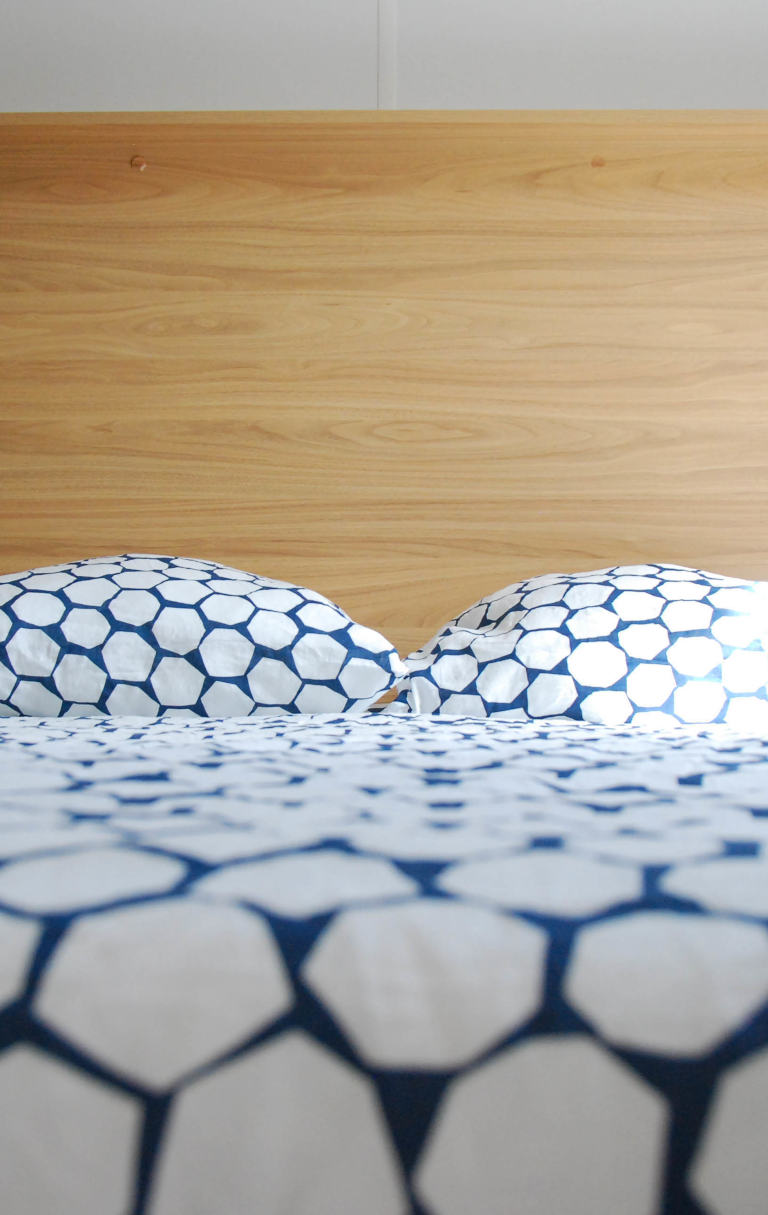 An open kitchen with a view over the countryside
The kitchen is very functional with large work surfaces and is equipped with : fridge, electric hob, microwave, electric coffee machine, kettle, toaster, all the necessary utensils for dining and preparing meals, and a large table with extensions. 
The living room is opposite the kitchen with a convertible sofa (double bed size) and a small table ideal for cocktails.
A large shower for more comfort
Compared to another mobile home in the Vendée, you will definitely find the shower very spacious. In fact, a bathroom with a 100*80cm shower is quite unusual. The soft and modern colours will make "shower" time even more fun, for those reluctant little ones !  And on the practical side : the WC is separate from the shower room.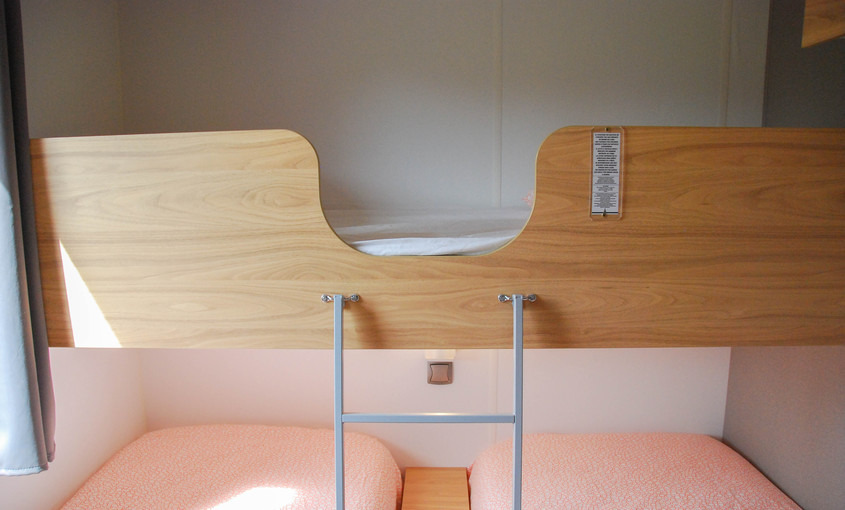 Ce que vous trouverez dans votre Cottage Premium…
A Panoramic view of the countryside and forest from your mobile home 
You can relax and enjoy family meals on the semi-covered wooden terrace,  equipped with deck chairs and garden furniture (once again, made from wood and metal, we try to avoid plastic whenever possible). What's more, this furniture is light, so you can move it around easily if you want to set it up on the grass ! So, as you sit comfortably in your deckchair, you can enjoy the view of the surrounding countryside and forest, and leave your worries behind !
Our 33 m² cottages can be rented from  90€/night for 4 people or 553€/week for 4 people.
Short stays are possible even in July and August from Tuesday to Saturday or from Saturday to Tuesday.
Arrival from 4pm – Departure before 10am
Our 33 m² cottage client reviews
No posts were found for provided query parameters.