Your original cottage, unusual and ecological accommodation!
D
esigned with quality and ecological materials, especially wood, this 16m² cabin-like cottage hides a warm and comfortable interior in any season. The living area offers a soft and relaxing atmosphere with a lovely view of the countryside. It has a bathroom, a kitchen area, 4 comfortable beds including a double bed on the mezzanine. An excellent design and quality finish. For a family or romantic getaway in the Vendée, choose the Original Cottage: the Estate's most unusual accommodation!

Unusual accommodation in the Vendée :

which type of holiday accommodation should you choose ?
For some years now, we have been witnessing a real upgrade in the types of accommodation offered by campsites. Visitors want to live a new experience during their stay : sleeping in a yurt, in a gypsy style caravan, in a tree house, in a teepee,… Here, at the Domaine de l'Oiselière, you have the possibility to enjoy an "out-of-the-ordinary" holiday in the Vendée. So, why not take a look at our unusual accommodation: the original cottage!     
Details for our original cottages
Like a little house on the prairie, this tiny house has :
a mezzanine with 1 double bed (140 cm) : duvet, pillows and made-up beds
a bedroom area with 2 bunk beds (80 cm) : duvets, pillows and made-up beds
a kitchen area with a fridge, microwave, an electric coffee maker, a kettle, a toaster, an electric hob, etc. 
a shower, a wash-hand basin, separate toilet
Outside, there is a wooden terrace with garden furniture for 4.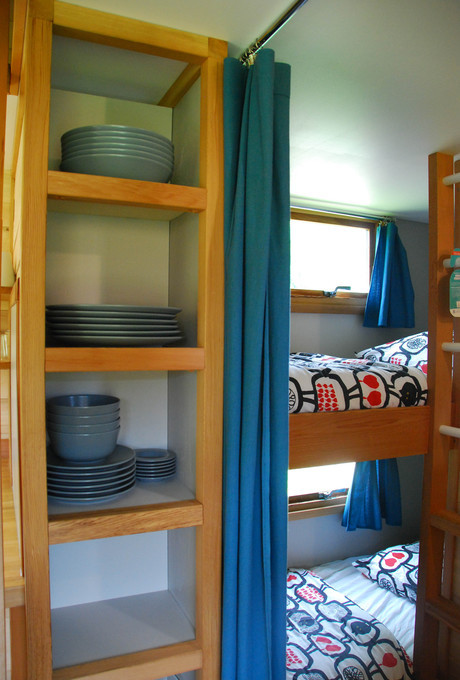 The original cabin style atmosphere
In a beautiful green setting at the bottom of the meadow, we have installed the original cottage. This is definitely our most comfortable and unusual type of accommodation, the one where you can really go glamping. It is ideal for a romantic night in. All the interior features are made of wood and have been created with great care.  The company "Histoire de Cabanes, owned by Francois a local craftsman manufactured this delightful cabin. He has created a very clever layout which includes a fully equipped kitchen, a fridge, an electric hob and a comfortable seating area, offering a breathtaking view of the meadow. The double bed is located on the mezzanine. 
This little house in the meadow presents the original aspects of a wooden cabin but thanks to its wood wool insulation it is also very comfortable regardless of the season,  So, if you are looking for an unusual little house for your holiday, the original cottage is exactly what you need.

For a unique experience : opt for unusual accommodation
All the comfort you need for your unusual holiday
This small chalet has a double bed on the mezzanine, and a small functional, fully equipped kitchen. The bathroom is stylish and offers all the comfort you will need during your unusual stay in the Vendée. Sheets are provided and beds are made before your arrival. It's just like a childhood dream come true, and as night falls, you'll feel as if you are perched in the trees in the heart of the forest where you can hear our owls hooting!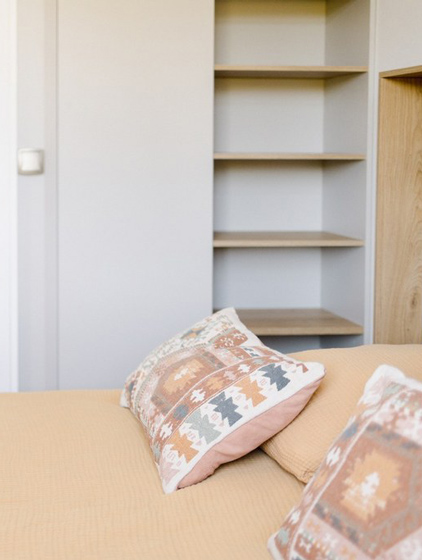 The little extras
Breakfast can be delivered to your chalet, a really handy option when you want to make the most of things. So, why not treat yourself  ! 
Our establishment obtained the Ecolabel in 2016. We strive to offer local and organic products, so you can enjoy fresh baguettes and pastries from the local bakery, as well as other fresh products that come from our shop.
An adventure for the children
This unusual accommodation can sleep up to 4 people. It has two bunk beds. The children will really feel like they are sleeping in a cabin, and at night they can watch the stars through the window from their bunk beds. They can read novels and comics, using their own little torches , all with a beautiful view of the natural surrounding. 
In other words, it is possible to enjoy a cosy family holiday or a romantic overnight stay in our Tiny houses from April to September.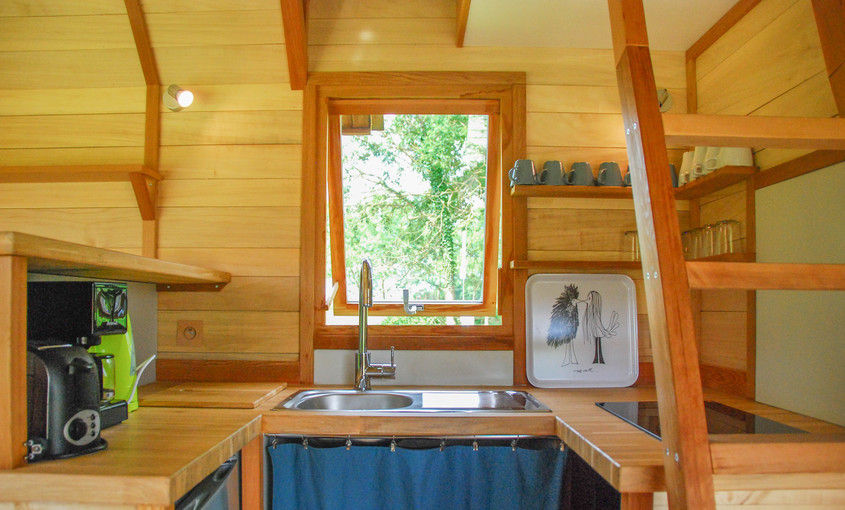 Ce que vous trouverez en louant votre Cottage original…
Small villages and unusual places in the Vendée
Looking to get away from it all? There are some beautiful villages to visit just a few kilometres from the Estate. They are listed as « Petite Cité de Caractère » – Mouchamps is a lovely example. A visit to this quaint village is a must during your unusual stay in the Vendée.
We also recommend another unusual place : the Historial de la Vendée. The building's architecture and its entirely vegetal roof are well worth the trip. The entertaining and interactive visit enables you to not only have a great time but also to learn a lot about the history of the Vendée. 
 And finally, for a really unique experience, you can visit the Grand Parc du Puy du Fou, at just 35 minutes from the Estate. We would recommend a minimum of two days to fully enjoy all the great shows and attractions on offer !
The original cottage prices 
Prices for our original cottages from 82€/night for 4 people or 494€/week for 4 people. Short stay are possible even in July and August from Tuesday to Saturday or from Saturday to Tuesday.
The original cottages are open from the beginning of April until the end of October, check availability here (no obligation) .
Arrival from 4pm – Departure before 10am
Further info 
if needed
Our original cottage client reviews
No posts were found for provided query parameters.